April 30, 2016 ALP GAM Jupiter / Saturn / Mars Watch Report
by James Kevin Ty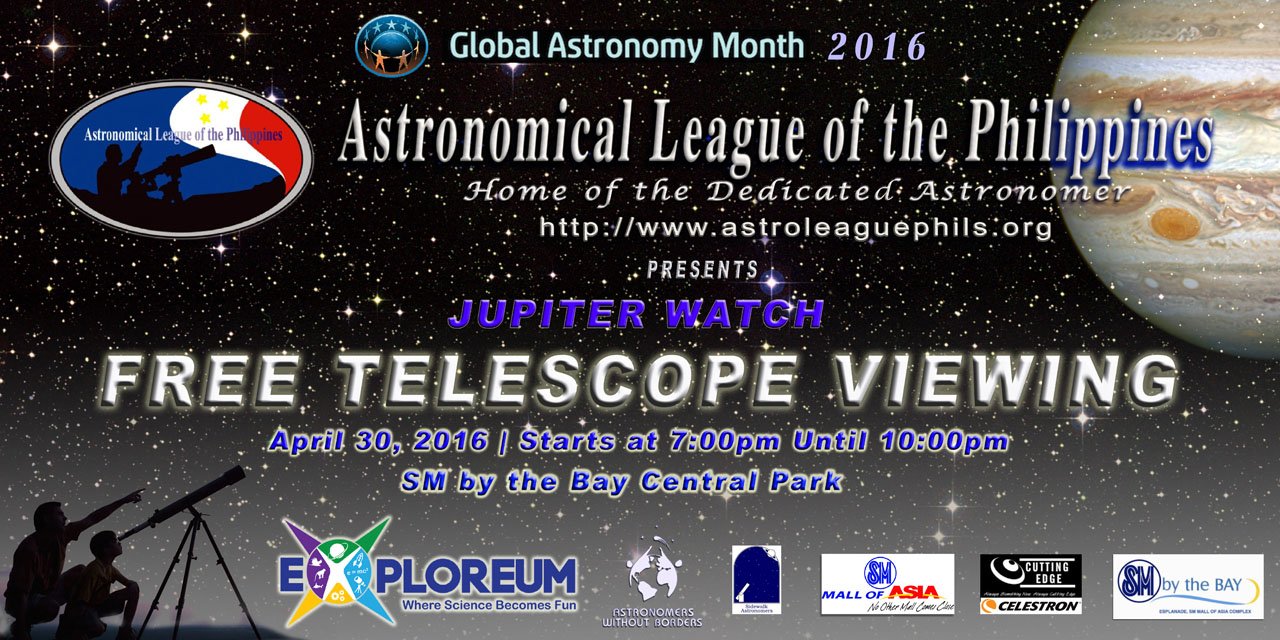 Astronomical League of the Philippines (ALP) with special joint participation of Manila Street Astronomers (MSA) celebrated Global Astronomy Week (GAM) with their last leg of GAM activity for July as Jupiter / Saturn / Mars Watch at SM By The Bay at SM Mall of Asia, Pasay City last April 30, 2016 . ALPers who were present on the event were ALP President James Kevin Ty with son Kendrick Cole KC Ty ; Treasurer Andrew Ian Chan , Secretary Christopher Louie Lu and daughter Frances Lu ; directors Iah Serna, Ronald Sison, Shubhashish Banerjee and member Mark Ian Singson. MSA members who were present were Gary Andreassen , Norman Marigza , Anthony Urbano and Jester Go. ALP partner Cutting Edge staff were also there to participate on this special event.
ALPer James Kevin Ty brought along his Meade 8" SCT on Vixen GP-DX mount ; Andrew Ian Chan with his Skywatcher 80ED refractor on Vixen GP mount ; Christopher Louie Lu with his Celestron Powerseeker 80 refractor on CG2 mount ; Shubhashish Banerjee with his WO Megrez 90 FD refractor on Celestron AVX mount ; Mark Ian Singson with his 102 Maksutov on sturdy tripod ; Ronald Sison with his Celestron C90 Maksutov on sturdy tripod . MSAer Gary Andreassen brought along his Celestron C8 on Orion Skyview EQ-5 mount. Cutting Edge brought along their Celestron C130 Newtonian reflector on CG3 mount.
Early in the evening, gas giant Jupiter was the crowd drawer as it shows its great beauty together with the visibility of the Great Red Spot (GRS) which shows a very distinct orange color as well as its 4 bright Jovian moons. At around 9:30pm , ringed planet Saturn brought the house down with its awesome ring system as well as its bright moon Titan. Last but not the least, is red planet Mars with shows a very distinct polar ice cap and Cimmerium feature at central meridian. Jupiter and Saturn were jaw dropping views at high magnification as the seeing condition that evening was very good. The "Ang Ganda (So beautiful) , Totoo ba yan (Is this real image), Wow and Cute" exclamations were awesome to hear despite a very tiring but very enjoyable evening sharing the beauty of the universe to the public to raise their astronomy awareness.
More than 1400+ people were able to observe the 3 beautiful planets through various telescopes brought along by ALP and MSA from 7:30pm - 11:15pm. Special thanks to Cutting Edge and MSA for their participation as well to make this event a very successful event to conclude this month's Global Astronomy Month!!!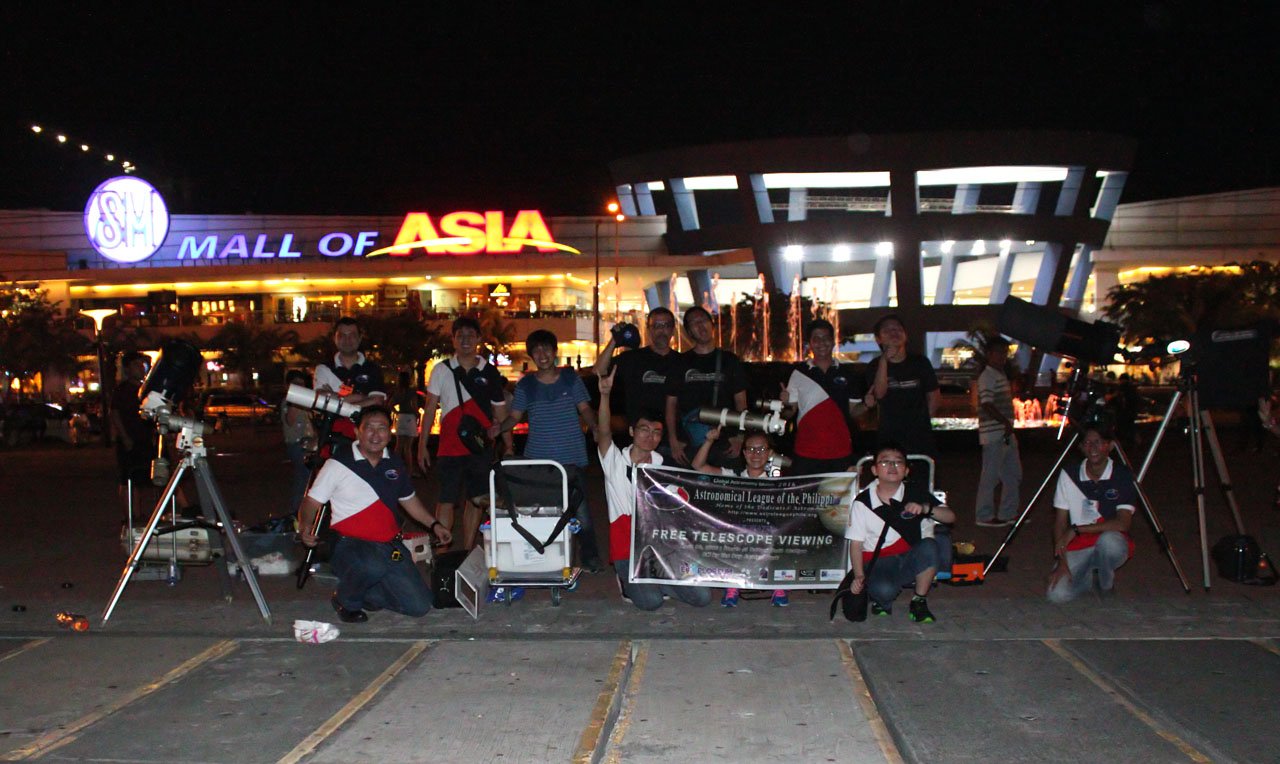 Group Shot
Wacky Shot