February 18, 2018 ALP NAW Opening Free Public Observation Report
by James Kevin Ty
Images by James Kevin Ty
Last February 18th, Astronomical League of the Philippines (ALP) celebrated National Astronomy Week opening day by hosting a free public telescope viewing session at SM By The Bay at SM Mall of Asia , Pasay City. Members who were present are ALP President James Kevin Ty and son Kendrick Cole KC Ty ; Treasurer Andrew Ian Chan , Secretary Justine Garcia , Auditor Edgar Ang , PRO Edge Lat , Directors Ronald Sison, Peter Benedict Tubalinal and Shubhashish Banerjee, Mike Enage , Per Edman and Dexter Cruz.
They started at around 6:30pm by setting telescope at the fountain area at SM By The Bay Central Park. James brought along his Kenko 60mm f/9 refractor on Nexstar mount ; Andrew with his Skywatcher 80ED refractor on Vixen GP mount ; Edgar with his Celestron Nexstar 90 refractor ; Shubhashish Banerjee with his Celestron Powerseeker 70mm AZ refractor on altazimuth mount; Per with his Orion XT6 Dobsonian reflector ; Mike with his TMB92 refractor on sturdy tripod ; Ronald with his Celestron C90 Maksutov-Cassegrain on sturdy tripod ; Dexter with his huge Orion 10" f/4.5 reflector on Skywatcher HEQ-5 mount ; Edge with his Meade 90mm GOTO refractor scope.
Awesome event with more than 2000 people got to view the Crescent Moon, Orion Nebula, Pleiades Star Cluster, M41 Star Cluster, bright stars Sirius and Canopus and many more at SM By The Bay at SM Mall of Asia, Pasay City.
They ended the event at around 10:00pm and had a traditional group shot before packing up.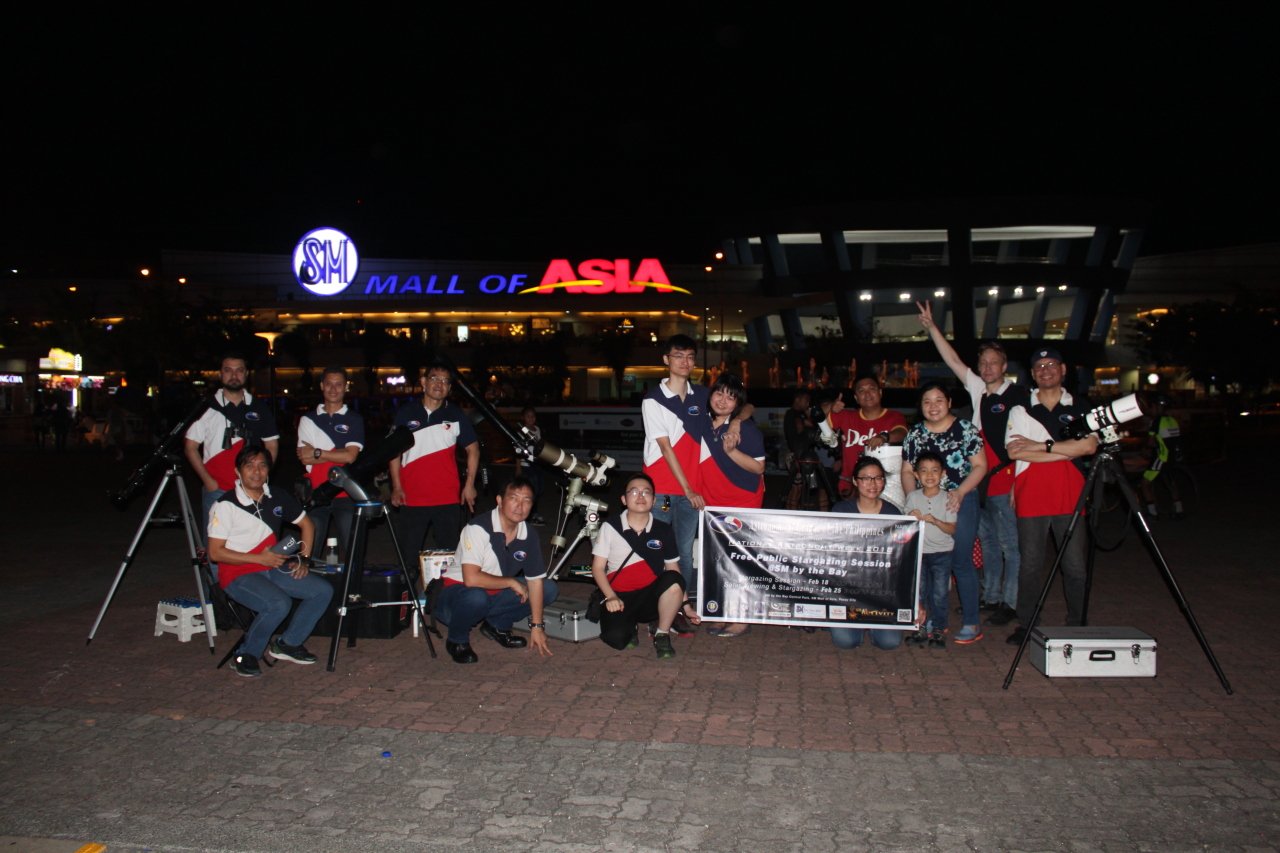 Group Shot
Wacky Group Shot