June 21, 2020 Partial Solar Eclipse
ALPers were initially planning to travel to Chiayi, Taiwan to document the June 21, 2020 Annular Solar Eclipse but unfortunately, due to Covid19 pandemic situation, international travel is very restricted due to very strict quarantine procedures so it was cancelled 🙁
So ALP President James Kevin Ty together with my son KC setup at their roofdeck in Manila, Philippines to document the partial solar eclipse which starts at 3:01pm PST with maximum eclipse of 68% at 4:22PM PST and ends at 5:31PM PST.
James set up his Canon EOS M6 mirrorless camera on TV-101 refractor on Vixen GPDX mount while his son used a Canon EOS 500D DSLR on Celestron C90 Maksutov-Cassegrain on Nexstar SLT Mount. Eclipse started partly cloudy at around 3:00pm but they were able to play hide and seek with the clouds till 4:10pm PST before they got clouded out and made a final tease for them to make their final image of the eclipse at 4:43pm PST, after more than 20 minutes past maximum eclipse at 4:22pm PST. After that, the clouds shut them down totally till 5:32pm before they end the session and packup. They were also able to see a iridescence colorful cloud formation while they were clouded out at maximum eclipse as a consolation.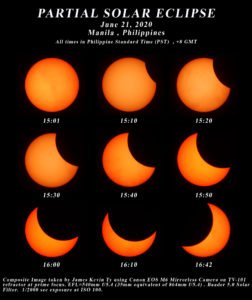 From other ALP observing sites, a few of them were able to capture a few minutes before or after maximum partial phase at 4:22pm PST such as a photo from ALP VP Jett Aguilar few minutes past maximum but most of them also experience partly heavy clouds as well.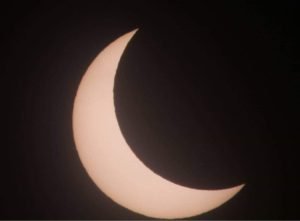 The rest of the country also experience partly cloudy skies on the entire eclipse duration.