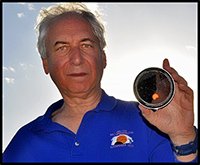 Dr. Jay Pasachoff is the Field Memorial Professor of Astronomy at Williams College in Williamstown, Massachusetts, USA, and Chair of the International Astronomical Union's Working Group on Solar Eclipses.
A renowned expert on the solar corona and chromosphere, Jay's research has been sponsored by the National Science Foundation, NASA, and the National Geographic Society. He has led 74 solar eclipse expeditions all over the world (of which 36 are total eclipses) and has published 15 books about the Sun and astronomy, as well as numerous textbooks and articles.
Asteroid 5100 Pasachoff was named by the IAU in his honor.